Press Release
2nd August 2022
It doesn't get fresher than this - BILLA tests "Vertical Farming" in Vienna
BILLA is the first food retailer in Austria to test "Vertical Farming" - an innovative concept for local food production in urban areas. In cooperation with the Israeli agricultural technology company Vertical Field, herbs and salads are grown and harvested from local seedlings in a shipping container in front of the BILLA PLUS store at Wienerbergstraße 27 in Vienna's 10th district.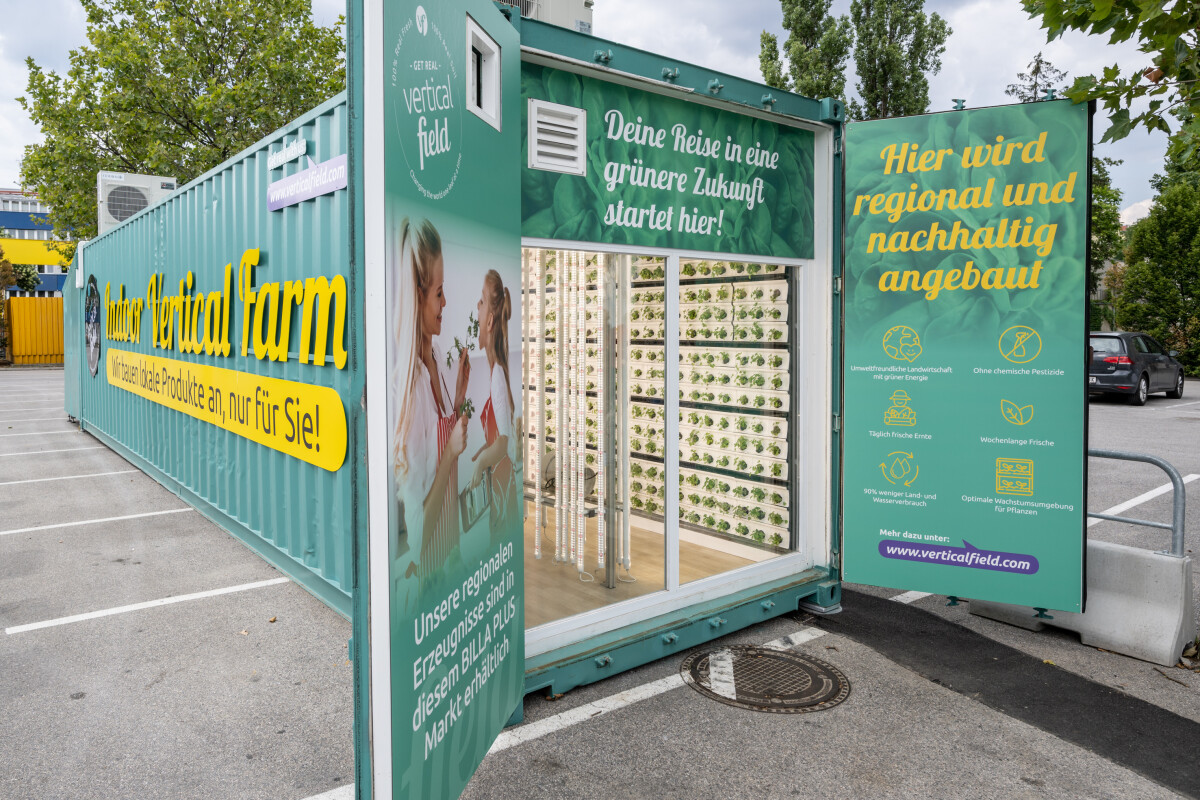 BILLA is the first food retailer in Austria to test "Vertical Farming" in cooperation with the Israeli agricultural technology company Vertical Field in front of the BILLA PLUS at Wienerberg Straße 27. / Copyright: BILLA / Harson, Reproduction for PR purposes free of charge
Download
The construction of a second container is planned for this year in the vicinity of Vienna. The plants are grown on top of each other on several levels and sold directly in the market after harvesting. One container can produce about 2,000 to 3,000 units per month - this means that the market is supplied with fresh herbs and salads from the container almost every day. To start with, there is parsley, basil, coriander, oak leaf lettuce as well as lollo lettuce - all harvested products are sold with soil press cubes to ensure a longer shelf life.
"Vertical farming is a forward-looking idea to be able to offer food as fresh as possible. At BILLA we are increasingly looking at alternative concepts and ideas to support sustainable ways in food production or - as in this case - to follow them ourselves. Vertical farming means optimal harvest yields on the smallest possible area and only a few metres to the shelf," explains Eric Scharnitz, BILLA Head of Sales, adding: "This increases supply security and our customers can look forward to local assortments: grown throughout the year and literally right on our doorstep."
The container at Wienerberstraße 27 started its first growing cycle at the end of July. Through a glass pane, interested customers can get a glimpse and watch the plants grow. The first harvest of parsley, basil & co. is planned for the second half of August - from then on the fresh herbs and salads will also be available in the BILLA PLUS market. In a second step, another container will be set up in the vicinity of Vienna.
Agriculture in the vertical
The cooperation with Vertical Field allows companies like BILLA to grow vegetables and fruit in densely populated urban areas on just a few square metres all year round and anti-cyclically. This is made possible by 16-hour lighting with LED lamps, a climate control system that always ensures the optimal temperature and humidity in the room, and a dedicated water and nutrient supply for the plants. The climate-friendly effects are enormous: 90 % less water consumption, 50 % less CO2 emissions and 30 times less space required than when growing on the ground. The protected environment also eliminates the need for pesticides and the products are all of the highest quality. As the produce is sold directly at the local market, transport distances are minimised and customers can enjoy fresh, locally produced products. In addition, the planting and harvesting of produce is adapted to the needs of the respective location and ensures that less food is wasted in the market.
"I think we all have to think about how to feed a growing world population in the future, while at the same time harvests are getting smaller due to soil sealing, monocultures, the use of chemicals and the consequences of climate change. Developing new agricultural land at the expense of our ecosystem and climate cannot be the solution here, but vertical farming can be - especially in urban areas," explains Ronen Redel, VP Business Development of Vertical Field, one of the leading AgTech (Agricultural Technology) companies developing innovative vertical solutions for the urban ecosystem. Numerous projects have already been implemented worldwide together with food retailers, restaurants and other institutions. Vertical Field provides infrastructure, know-how and holistic support from cultivation to delivery.
If the Vertical Farming pilot project by BILLA and Vertical Field is successful, further containers will be set up in front of selected BILLA PLUS stores.